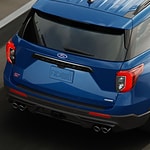 The new Ford Explorer is one of the leading three-row SUVs on the market today. It is specifically designed with your comfort, safety, and convenience in mind. Learn why the new Explorer from Ford is the right SUV for you and your family today.
To start, the newest Explorer can accommodate up to seven people. It comes with two seats in the first and second row. In the third row, you get three seats that can easily fit three adults.
The all-new Explorer also has adaptable LED headlights that maximize your safety on the road. They adjust their lighting so that you can easily see what is front of you not only when it is dark but also when you are driving in inclement conditions.
Finally, the Ford Explorer comes with adjustable seats that maximize your access to the middle and back row. You can fold down the outer middle seat to climb in and out of the back row easily.