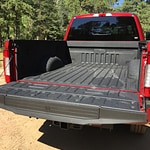 When it comes to heavy-duty trucks, nothing can really match the reputation of the Ford Super Duty. That's because millions of people rely on the Super Duty to get the job done. Here's a look at how the Super Duty has been a durability legend.
The Super Duty features a fully boxed frame built with 95% high strength steel and ten cross members. This allows the Super Duty to handle big payloads while not compromising the driving performance of the Super Duty. The Super Duty is also one of the most tested vehicles on the planet. This heavy-duty truck has been stress tested for over 20 million miles by Ford. In short, the Super Duty is designed to last.
You will want to get inside the Ford Super Duty to really appreciate what it can do. Helena Ford Lincoln invites you to test drive the Super Duty. We'll make you a top deal.