Ford Trucks Through the Years
When the iconic F-Series trucks launched in the late 1940s with their exclusive V8 engines, few could imagine what this vaunted line of pickup trucks would achieve. In 1977 the F-Series would become America's best-selling truck, a title it's held onto now for 40 consecutive years. 
Any line of products with the legacy and longevity of Ford Trucks has quite the story to tell. Over the 92 years that Ford has been in the pickup business, many examples have stood out, making an undeniable impact on the direction of this iconic franchise.
 Here are some of the pickups that have made the Ford Trucks line what it is today:
The Beginning of History
Sure, by 1925 Ford had offered a one-ton truck chassis for a few years. But this year marked the first factory-built half-ton pickup. This Model T pickup would have set you back $281. With over 135,000 built, this marked the beginning of America's love affair with pickups.
Pre-War Revamp
In 1940, Ford's chief designer E.T. "Bob" Gregorie redesigned the truck line for the first time in a decade, giving it many of the design cues of Ford's car line.
"Ford pretty much put a stamp on it in 1940, and said this is how good a pickup truck can look," said Dave Kinney, publisher of the Hagerty Price Guide.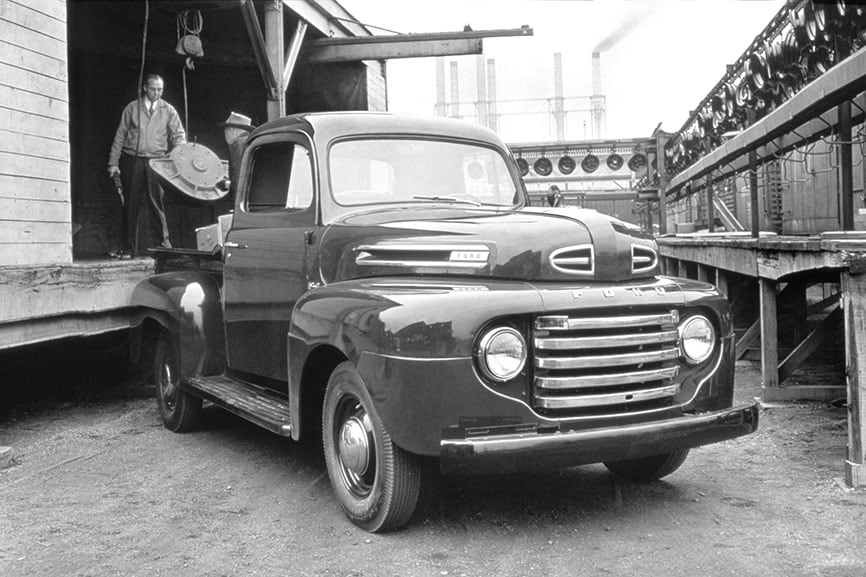 First of Its Kind
1948 was the first year of the Ford F-Series, and the first time a Ford pickup was built on a truck chassis. The "Bonus Built Line" came in several different varieties, ranging from the half-ton F-1 through the 3-ton F-8. These trucks also featured a one-piece windshield and more integrated styling.
New Name, New Engine
The 1954 Ford F-100 launched with a brand-new name and a brand-new engine. An overhead valve 3.9 liter V8, with over 130 horsepower, replaced the historic flathead V8. The F-100 would thrive for almost 30 years, ceasing production in 1983.
1950s Style
Just a few short years later in 1957, Ford unveiled the Styleside pickup bed, the industry's first all-steel bed with sidewalls that were flush with the fenders. Until then, fenders were separate from the sidewalls, trimmed with running boards, and featured a wood floor with steel strips. The truck's square, upright styling was a radical shift in design from previous models.
Four-Wheel Drive
Innovation continued in the 1950s, when in 1959, Ford offered the pickup with available four-wheel drive. Trucks fitted with the Custom Cab option got upgraded candy-striped upholstery, a white steering wheel with horn ring, and a two-tone instrument panel.
Creature Comforts
To the untrained eye, the 1966 model year may have looked pretty unremarkable. However, trucks were about to get some much-needed amenities. A new top-of-the-line model, dubbed the Ranger, offered comparatively decadent seats and carpet, power steering, power brakes and air conditioning. It was a sign of things to come.
More Doors
Crew Cabs were a dealer special order for the 1966 model. Available on the F-250, it was originally intended to help get everyone to the job site. Today, it's hard to imagine a truck without an available four-door option, whether you're hauling crews or kids.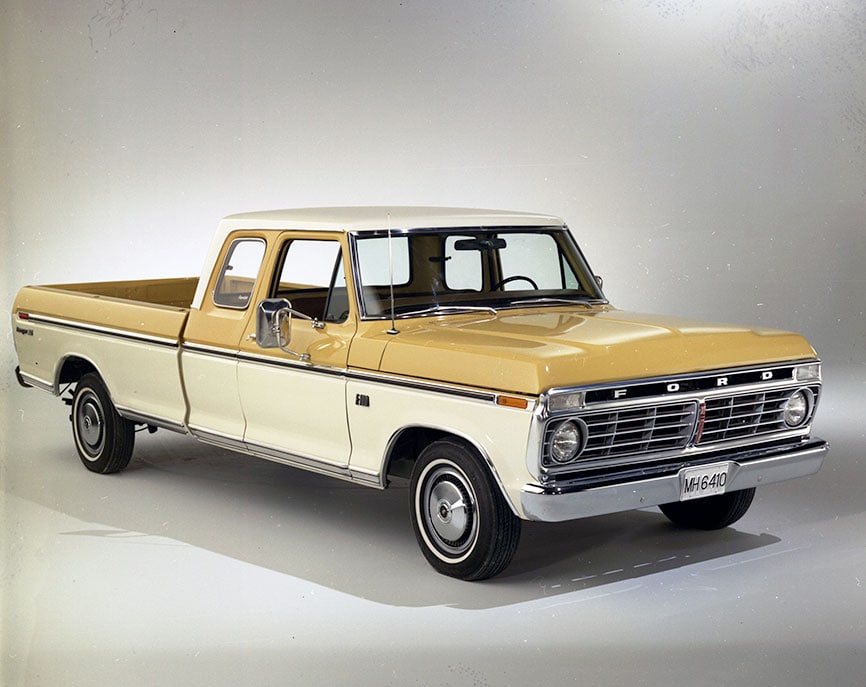 SuperCab
The SuperCab debuted in 1974, giving its owners as much as an extra 49 cubic feet of cargo space behind the front seats. In addition, the trucks could be fitted with two center-facing jump seats, or a fold-down, full-width bench seat.
Lightning Strikes
The brainchild of Ford's Special Vehicle Team (SVT), the SVT Lightning struck in 1993. These limited-edition, high-performance vehicles featured a revised high-output V8, upgraded suspension, dual exhaust, a four-speed automatic transmission and rear-wheel drive. The Lightning was capable of a 0-60 mph time of 7.2 seconds.
Two Legends Together
Two iconic American brands came together for the first time with the appearance of the 2000 Ford F-150 Harley-Davidson. Its powerful 260-horsepower V8 was enough to win over even the most skeptical purists. Clad in black and accented in orange paint, it also featured 20-inch wheels, a unique leather-lined cabin and a plethora of badges.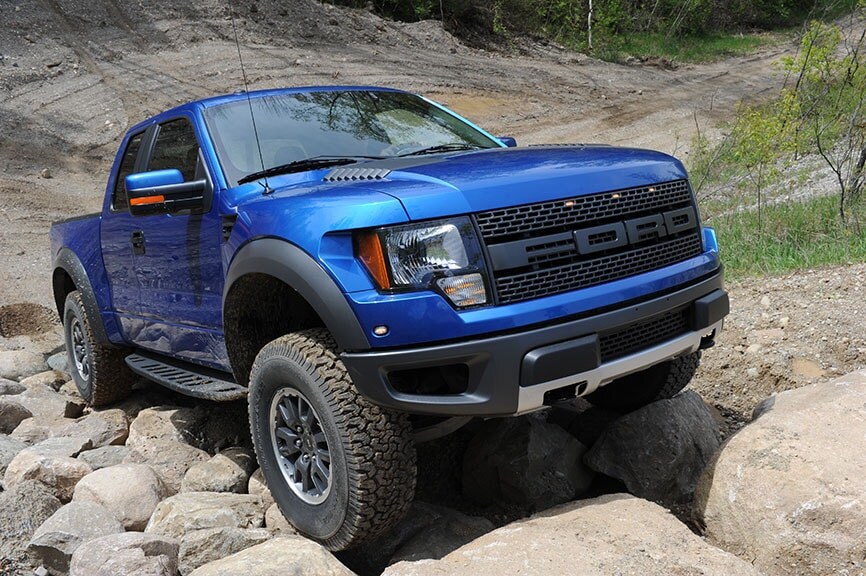 Raptor Attacks
The mad geniuses at SVT created a monster in 2010; a Raptor to be precise. This performance pickup embodies Ford's desert-forged, off-road prowess. Looking every bit like a Baja warrior, Ford revised the suspension, stretching it 7 inches for better stability. A 5.4-liter V8 delivering 310 horsepower was standard; an optional 411-horsepower 6.2-liter V8 was added shortly after its debut.
Hours
Monday

8am-7pm

Tuesday

8am-7pm

Wednesday

8am-7pm

Thursday

8am-7pm

Friday

8am-7pm

Saturday

9am-6pm

Sunday

Closed